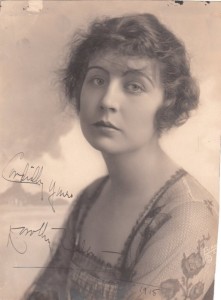 EXTREMELY RARE AUTOGRAPHED PHOTO OF SILENT FILM ERA ACTRESS DOROTHY DALTON.  MEASURES 6.5 BY 9 INCH, OVERALL GOOD CONDITION, SLIGHTLY UNEVEN ALONG EDGES FROM BEING CUT DOWN FROM ORIGINAL SIZE.
SIGNED CORDIALLY YOURS,
DOROTHY DALTON, 1918.
Dorothy Dalton (September 22, 1893 – April 13, 1972) was an American silent film actress and stage personality who worked her way from a stock company to a movie career. Beginning in 1910, Dalton was a player in stock companies in Chicago and Holyoke, Massachusetts. She joined the Keith-Albee-Orpheum Corporation vaudeville circuits. By 1914 she was in Hollywood.