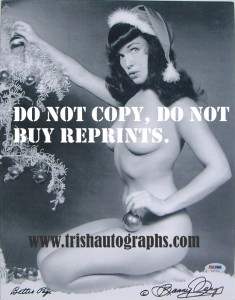 11 x 14 BLACK AND WHITE PHOTO OF ICONIC BETTIE PAGE HANGING CHRISTMAS ORNAMENTS, PHOTO TAKEN BY AND ALSO AUTOGRAPHED ON RIGHT HAND BOTTOM CORNER BY LEGENDARY BUNNY YEAGER.  AUTOGRAPHED ON BOTTOM LEFT CORNER BY BETTIE PAGE.
PSA/DNA COA # H35306
THE ACTUAL ITEM THAT YOU ARE BUYING DOES NOT HAVE ANY WRITING ACROSS IT LIKE OUR PICTURE PROVIDED.  WE WATERMARKED IT USING PHOTOSHOP TO KEEP OTHERS FROM TAKING OUR IMAGES TO SELL AS REPRINTS. ANY QUESTIONS? PLEASE EMAIL US TRISH@TRISHAUTOGRAPHS.COM
Famous image Playboy centerfold appearance; January 1955. The famous photo shows Page, wearing only a Santa hat, kneeling before a Christmas tree holding an ornament. She was also one of the earliest Playmates of the Month for Playboy magazine. "I think that she was a remarkable lady, an iconic figure in pop culture who influenced sexuality, taste in fashion, someone who had a tremendous impact on our society,"Playboy founder Hugh Hefner told the Associated  Press. Signed by both Bettie Page and Bunny Yeager, the photographer.