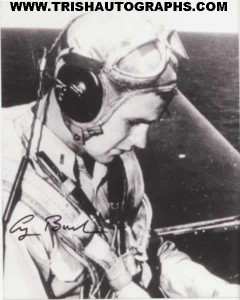 Coming from a family with a tradition of public service, George Herbert Walker Bush felt the responsibility to make his contribution both in time of war and in peace. Born in Milton, Massachusetts, on June 12, 1924, he became a student leader at Phillips Academy in Andover. On his 18th birthday he enlisted in the armed forces. The youngest pilot in the Navy when he received his wings, he flew 58 combat missions during World War II. On one mission over the Pacific as a torpedo bomber pilot he was shot down by Japanese antiaircraft fire and was rescued from the water by a U. S. submarine. He was awarded the Distinguished Flying Cross for bravery in action.
TO CONTINUE READING THIS AMAZING BIOGRAPHY, PLEASE CLICK HERE
AND DON'T FORGET, TRISH HESSEY AUTOGRAPHS IS ALWAYS LOOKING FOR AUTOGRAPHED MEMORABILIA TO PURCHASE, SELL YOUR ENTIRE COLLECTION TODAY OF ANY SIZE!  EMAIL TRISH@TRISHAUTOGRAPHS.COM OR CALL 909-484-8322 TODAY.  VISIT WWW.TRISHAUTOGRAPHS.COM NOW!