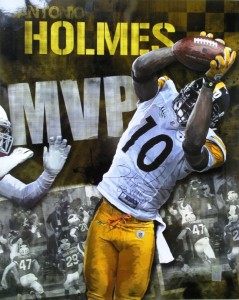 Santonio Holmes, Jr.
(born March 3, 1984, in Belle Glade, Florida)
Is an American football wide receiver for the Pittsburgh Steelers of the National Football League. He previously played college football with the Ohio State Buckeyes.
In Super Bowl XLIII,  Holmes secured the Steelers' NFL-record 6th Super Bowl win after Buy Septilin Online without prescription catching a 6-yard touchdown pass from Ben Roethlisberger with 35 seconds left in regulation. The play was reviewed by the booth within seconds and cleared for a touchdown. He was named the game's MVP after finishing with nine receptions for 131 yards and one touchdown.