NEW YORK — Roger Clemens gained entrance into one of the most exclusive clubs in sports Friday, becoming the 21st pitcher in Major League history to win 300 games, as the Yankees defeated the St. Louis Cardinals, 5-2, in front of a sold-out crowd at Yankee Stadium.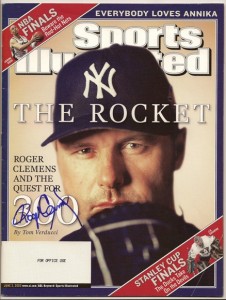 ROGER CLEMENS. Signed Sports Illustrated magazine, issue June 2, 2003. Signed in blue ink, crease on the lower Buy Zithromax Online right corner and light wear otherwise beautiful NM.
From MLB Website on June 13th, 2003.
"I'm real fortunate that I had the opportunity to do it here in this stadium and in this uniform," said Clemens. "I just couldn't have drawn it up any better."
Clemens became the first pitcher since Nolan Ryan in 1990 to reach 300 wins, tying Hall-of-Famers Early Wynn and Lefty Grove for 19th place on the all-time victory list. Clemens is the second pitcher to win No. 300 at Yankee Stadium, but the first Yankee to win it in front of the home fans.