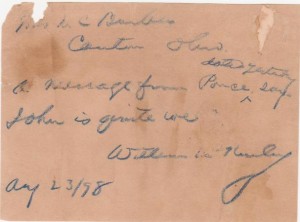 WILLIAM MCKINLEY
1897-1901
At the 1896 Republican Convention, in time of depression, the wealthy Cleveland businessman Marcus Alonzo Hanna ensured the nomination of his friend William McKinley as "the advance agent of prosperity." The Democrats, advocating the "free and unlimited coinage of both silver and gold"–which would have mildly inflated the currency–nominated William Jennings Bryan.
While Hanna used large contributions from eastern Republicans frightened by Bryan's views on silver, McKinley met delegations on his front porch in Canton, Ohio. He won by the largest majority of popular votes since 1872.
Born in Niles, Ohio, in 1843, McKinley briefly attended Allegheny College, and was teaching in a country school when the Civil War broke out. Enlisting as a private in the Union Army, he was mustered out at the end of the war as a brevet major of volunteers. He studied law, opened an office in Canton, Ohio, and married Ida Saxton, daughter of a local banker.
At 34, McKinley won a seat in Congress. His attractive personality, exemplary character, and quick intelligence enabled him to rise rapidly. He was appointed to the powerful Ways and Means Committee. Robert M. La Follette, Sr., who served with him, recalled that he generally "represented the newer view," and "on the great new questions .. was generally on the side of the public and against private interests."