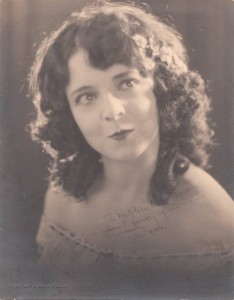 EXTREMELY RARE AUTOGRAPHED PHOTO OF SILENT FILM ERA ACTRESS COLLEEN MOORE
Vintage matte finish 7 x 9 Clarence Sinclair Bull portrait inscribed in black fountain pen
"To Mr. and Mrs. O.K. Mason in pleasant memory of our meeting sincerely Colleen Moore"
BOTTOM LEFT CORNER HAS RAISED TEXT OF "CLARENCE SINCLAIR BULL"
THIS IS A VERY UNIQUE PIECE, VERY COOL TO ADD TO ANY COLLECTION AND A MUST FOR ANY SILENT ERA FAN!
Colleen Moore (August 19, 1900 – January 25, 1988) was an American film actress, and one of the most fashionable stars of the silent film era. TALKIES With the advent of talking pictures in 1929, Moore took a hiatus from acting. During this interim, Moore was briefly married to a prominent New York-based stockbroker , Albert Parker Scott, one of her four husbands. She and Scott lived at that time in a lavish home in Bel Air, where they hosted parties for and were supporters of the U.S. Olympic team, especially the yachting team, during the 1932 Summer Olympics held in Los Angeles. In 1933, Moore, by then divorced, returned to work in Hollywood. She appeared in three films, none of which were successful, and Moore retired. She later married the widower Homer Hargrave and raised his children (she never had children of her own) from a previous marriage, with whom she maintained a life-long close relationship. Throughout her life she also maintained close friendships with other colleagues from the silent film era, such as King Vidor and Mary Pickford.