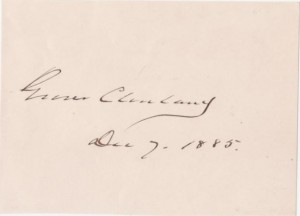 The First Democrat elected after the Civil War, Grover Cleveland was the only President to leave the White House and return for a second term four years later.
One of nine children of a Presbyterian minister, Cleveland was born in New Jersey in 1837. He was raised in upstate New York. As a lawyer in Buffalo, he became notable for his single-minded concentration upon whatever task faced him.
At 44, he emerged into a political prominence that carried him to the White House in three years. Running as a reformer, he was elected Mayor of Buffalo in 1881, and later, Governor of New York.
Cleveland won the Presidency with the combined support of Democrats and reform Republicans, the "Mugwumps," who disliked the record of his opponent James G. Blaine of Maine.
A bachelor, Cleveland was ill at ease at first with all the comforts of the White House. "I must go to dinner," he wrote a friend, "but I wish it was to eat a pickled herring a Swiss cheese and a chop at Louis' instead of the French stuff I shall find." In June 1886 Cleveland married 21-year-old Frances Folsom; he was the only President married in the White House.
Cleveland vigorously pursued a policy barring special favors to any economic group. Vetoing a bill to appropriate $10,000 to distribute seed grain among drought-stricken farmers in Texas, he wrote: "Federal aid in such cases encourages the expectation of paternal care on the part of the Government and weakens the sturdiness of our national character. . . . "
KEEP READING AT THE SOURCE BY CLICKING HERE……………………………………………………………………