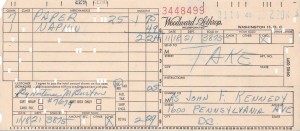 BONWIT TELLER RECEIPT DATED 4/19 NO YEAR.  CHARGE TO MRS. JOHN F. KENNEDY, THE WHITE HOUSE, WASHINGTON, D.C. MEASURES 4″ X 6-11/16″
WOODWARD & LOTHROP WASHINGTON D.C. RECEIPT, CHARGE TO MRS. JOHN F. KENNEDY, 1600 PENNSYLVANIA AVE., D.C., $2.29 FOR QUANTITY OF 7 PAPER NAPKINS.  MEASURES 7-3/8 X 3-1/4″
HISTORY OF BONWIT TELLER:
Bonwit Teller was a department store in New York City founded by Paul Bonwit. Now defunct, it was one of a group of department stores that catered to the carriage trade on Fifth Avenue, including Peck & Peck, Saks Fifth Avenue and B. Altman and Company.
HISTORY OF WOODWARD & LOTHROP:
Woodward & Lothrop was a department store chain headquartered in Washington, D.C. Woodward & Lothrop was Washington, D.C.'s first department store, opening in 1887. Woodies, as it was often nicknamed,  maintained stores in the Mid-Atlantic United States. Its flagship store was a fixture of the shopping district in downtown Washington, with Garfinckel's, and in the late 1990s the center of controversy over competing visions for DC's urban renewal.
AVAILABLE FROM TRISH HESSEY AUTOGRAPHS, VISIT WWW.TRISHAUTOGRAPHS.COM OR CALL TRISH AT 909-484-8322