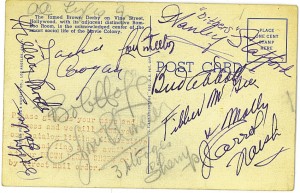 TO PURCHASE, PLEASE EMAIL TRISH@TRISHAUTOGRAPHS.COM OR CALL NOW AT 909-484-8322.
YOU CAN ALSO USE THE PAYPAL BUY IT NOW BUTTON BY CLICKING ON THE PICTURE TO BE REDIRECTED TO OUR STORE.
THE HOLLYWOOD BROWN DERBY FAMOUS RESTAURANT, THE RENDEZVOUS OF THE STARS.
THIS IS A ONE OF A KIND PIECE OF VINTAGE HOLLYWOOD MEMORABILIA, A TRUE TREASURE TO ADD TO ANY COLLECTION.
EACH SIGNATURE WAS OBTAINED IN PERSON SOMETIME IN THE 1940's.
Bob Hope, Gloria Blondell, (Joan's sister and the star of a popular mystery radio show), Hanley Stafford, ("Dithers" on the Blondie radio show) Shemp Howard, Jackie Coogan, J. Carroll Naish, Bobby Barber, (noted character actors), Lou Costello, Bud Abbott, Fibber McGee and Molly and A.C. Lyles,(producer of many western films).
William (Bud) Abbott and Lou Costello (born Louis Francis Cristillo) performed together as Abbott and Costello, an American comedy duo whose work in radio, film and television made them the most popular comedy team during the 1940s and 50s. Thanks to the endurance of their most popular and influential routine, "Who's on First?"—whose rapid-fire word play and comprehension confusion set the preponderant framework for most of their best-known routines—the team is, as a result, featured in the National Baseball Hall of Fame and Museum. (Contrary to popular belief, however, the duo was not inducted into the Hall.)