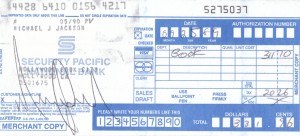 MICHAEL JACKSON MERCHANT SIGNED COPY OF A CREDIT CARD RECEIPT THAT WAS RAN IN 09/25/89 FOR THE AMOUNT OF $311.70 WITH TAXES OF $20.26
MICHAEL BOUGHT THIS BOOK AT HOLLYWOOD BOOK CITY, THE BANK PRINT ON THE BACKGROUND IS SECURITY PACIFIC NATIONAL BANK.  VERY COOL PIECE OF HISTORY FROM THE KING OF POP, SIGNED IN BLACK INK, PERFECT CONDITION AND ACCOMPANIED WITH THE SCANNED CERTIFICATE OF AUTHENTICITY PROVIDED IN THIS LISTING!
THIS IS THE ORIGINAL COA SIGNED IN BLUE INK BY JAMES J. SPENCE, JR. OF JSA AUTHENTICATION AND ALSO SIGNED BY A NOTARY PUBLIC, JAMES SPENCE #B80616
ACTUAL RECEIPT MEASURES 7″ X 3-1/8″ H
CHECK IT OUT AND BUY IT NOW, LIKE STOCKS AND BONDS, COLLECTING SIGNIFICANT phentermine online MEMORABILIA SUCH AS A MICHAEL JACKSON PIECE IS SOMETHING THAT WILL ONLY GO UP IN VALUE OVER TIME.  ONCE THIS ECONOMY FULLY TURNS AROUND, YOU WILL BE ABLE TO TURN AROUND AND DOUBLE YOUR MONEY OR KEEP IT FOR DECADES AND REALLY WATCH ITS VALUE INCREASE! 
DON'T BE FOOLED BY THE FAKES AND REPRINTS, BUY FROM A SOURCE YOU CAN TRUST, BUY FROM TRISH HESSEY AUTOGRAPHS!