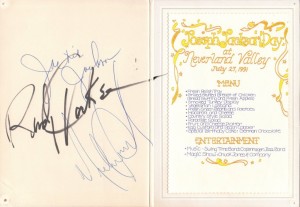 An autographed greeting card /dinner menu Hosted by Michael Jackson for his father's Birthday Party (was a family only event) at the Neverland Valley Ranch in 1991, Michael named the Birthday party"JOSEPH JACKSON DAY". Very rare and unique item from a Michael Jackson's Family event.
Acquired from the cater; 
"I catered the event with my father and grandmother, through our family business located in Santa Ana, CA…BURRELL'S BAR-B-Q, or BURRELL'S RIB CAGE. It was just the Jackson family and my family for most of that day, until the band showed up later that evening. I buy cialis also have a published letter to the editor newspaper article about the day I spent with them."
Signed in full by Jackie Jackson, Randy Jackson and boldly signed by Michael Jackson! Menu/greeting card approixmate size 5 x 7 on heavy stock paper.
It is our desire to offer collectors of fine autographs and memorabilia the opportunity to acquire items of the utmost authenticity and quality, all backed by a lifetime guarantee of authenticity. Each piece is accompanied by a Certificate of Authenticity which is more than just a piece of paper: it's an iron clad bond issued by a member of the mainstream autograph community who has a reputation as a full time and respected dealer.
We offer a large variety of inventory consisting of all genres; rock and roll, historical, film, literature and much more. Please don't hesitate to inquire if you are looking for something special.   Trish can be reached at 1-909-484-8322 or by emailing trish@trishautographs.com.
SHIPPING:
All items will be shipped via Priority Mail, upon receipt and clearance of payment.
 PAYMENT:
All items are to be paid for by PayPal which accepts all major credit cards. All payments must be made in U.S. dollars.