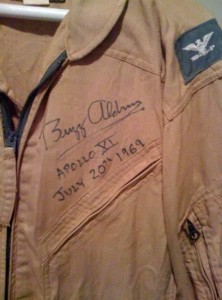 Buzz Aldrin's USAF aerospace research pilot school jumpsuit, worn in training. Beautifully signed "Buzz Aldrin Apollo XI July 20th 1969." Patch on jumpsuit reads; "USAF aerospace research pilot school" the rank insignia is for col. (silver eagles). Name tag inside suit "E. ALDRIN." Certificate from Odyssey Group dated June 3, 1997 and signed by CEO Bill Miller
Edwin Eugene "Buzz" Aldrin (born 1930) and fellow American astronauts cialis where to buy Neil Armstrong and Michael Collins received world-wide recognition for their "Apollo 11" lunar spaceflight in July of 1969. Aldrin, who followed Armstrong from the lunar landing module "Eagle", became the second person to ever walk on the moon.
Please email me directly at trish@trishautographs.com for further information. I Look forward to hearing from you, Trish Hessey!