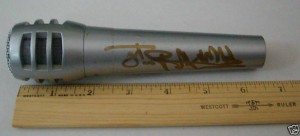 SEX PISTOLS: Sex Pistols and Public Image, Ltd. A primary culprit behind the style and attitude that is associated with the punk movement of the late 1970s, John Lydon — known in his early career as "Johnny Rotten" (a nickname inspired by the dismal condition of his teeth at the time) — is certainly one of the most recognizable performers of the punk era, despite his relatively short-lived involvement in the genre. Perhaps even more significant is his role in establishing the direction of post-punk, "alternative" music in the 1980s, which combined avant-garde and world music into the raw approach developed during the previous decade. He has certainly come to define one of the oddest contradictions created by the post-1950s music industry: the rebellious, anti-establishment outsider turned established, internationally-known celebrity.
TRISH HESSEY AUTOGRAPHS IS LOOKING FOR AUTOGRAPH COLLECTIONS OF ALL  SIZES TO PURCHASE. PLEASE CALL TODAY AT 909-484-8322 OR EMAIL TRISH@TRISHAUTOGRAPHS.COM AND VISIT WWW.TRISHAUTOGRAPHS.COM NOW! PLEASE INCLUDE SCANS OF SINGLE ITEMS OR SMALL GROUPS AND INVENTORY LISTS FOR ALL LARGER COLLECTIONS.
AUTOGRAPHED MEMORABILIA COLLECTIONS OF ALL SIZES CONSIDERED.