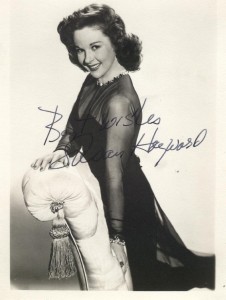 Born Edythe Marrener on June 30, 1918, to a poverty stricken family in Brooklyn, New York, Hayward's childhood was difficult.She was hit by a car at the age of seven and stranded at home ina body cast for months. The experience left Hayward with a limp and painful memories of a debility she would never forget.
Hayward's life took an unexpected turn when she was cast as the lead in a school play at age twelve. The attention she received quickly turned her into a compulsive ham. By 1935, a sexy swagger had replaced Hayward's childhood limp, and the gorgeous seventeen-year-old possessed an hourglass figure, a brassy Brooklyn accent and a burning desire for fortune and fame. She began working as a model to help support her family, and when she was featured in the Saturday Evening Post in 1937, all of America was introduced to the red-headed siren from Brooklyn. The same year,David O. Selznick offered Hayward an audition for the part of Scarlett O'Hara in Gone With the Wind. Though her lack of experience took her out of serious consideration, Hayward decided to trade in her return ticket and stay in Hollywood. After signing a contract with Warner Brothers, she changed her name to Susan Hayward.
Hayward was driven to succeed as an actress and worked virtually non-stop. Offered the starring role in Smash-Up: The Story of a Woman in 1947, Hayward dazzled both audiences and critics,receiving her first Academy Award nomination as Best Actress.Hayward received four more nominations over the next twelve years,eventually winning for her work in the wildly successful I Want to Live in 1958. Sadly, the actress's happiness was eclipsed by the death of her husband Eaton Chalkey. And in 1972, just as she was emerging from her despair, she was diagnosed with cancer.
Refusing to surrender to the illness without a fight, Susan Hayward even managed to present the Academy for Best Actress in1974. On March 14, 1975, at age fifty-six, the irrepressible Brooklyn Bombshell died, leaving behind legions of fans all over the world. READ FROM THE SOURCE