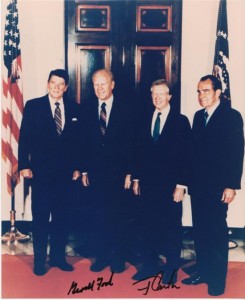 38. GERALD R. FORD
1974-1977
When Gerald R. Ford took the oath of office on August 9, 1974, he declared, "I assume the Presidency under extraordinary circumstances…. This is an hour of history that troubles our minds and hurts our hearts."
It was indeed an unprecedented time. He had been the first Vice President chosen under the terms of the Twenty-fifth Amendment and, in the aftermath of the Watergate scandal, was succeeding the first President ever to resign.
Ford was confronted with almost insuperable tasks. There were the challenges of mastering inflation, reviving a depressed economy, solving chronic energy shortages, and trying to ensure world peace.
39. JIMMY CARTER
1977-1981
Jimmy Carter aspired to make Government "competent and compassionate," responsive to the American people and their expectations. His achievements were notable, but in an era of rising energy costs, mounting inflation, and continuing tensions, it was impossible for his administration to meet these high expectations.
Carter, who has rarely used Cheap Cialis Online Without Prescription his full name–James Earl Carter, Jr.–was born October 1, 1924, in Plains, Georgia. Peanut farming, talk of politics, and devotion to the Baptist faith were mainstays of his upbringing. Upon graduation in 1946 from the Naval Academy in Annapolis, Maryland, Carter married Rosalynn Smith. The Carters have three sons, John William (Jack), James Earl III (Chip), Donnel Jeffrey (Jeff), and a daughter, Amy Lynn.
After seven years' service as a naval officer, Carter returned to Plains. In 1962 he entered state politics, and eight years later he was elected Governor of Georgia. Among the new young southern governors, he attracted attention by emphasizing ecology, efficiency in government, and the removal of racial barriers.