Buy Roxithromycin Online without prescription 13.5pt; mso-fareast-font-family: "Times New Roman"; mso-bidi-font-family: "Times New Roman";">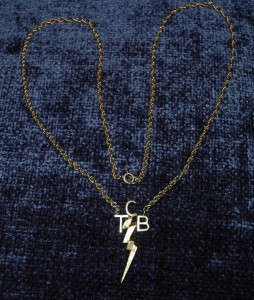 THIS NECKLACE WAS GIVEN TO CHARLIE STONE BY ELVIS PRESLEY
TCB 14k GOLD LIGHTNING BOLT NECKLACE GIVEN TO CHARLIE STONE, ACCOMPANIED WITH  A LETTER OF AUTHENTICITY BY LAMAR FIKE, ONE OF THE ORIGINAL MEMPHIS MAFIA  
(Memphis Mafia is the nickname given to the group of men who were with Elvis Presley everyday from 1956 until the day he died on August 16, 1977)  
Charles Stone, from Dallas, Texas, who, in the l970's, worked with Elvis, Colonel Parker, and the rest of the Elvis crew to produce Elvis' tours and to arrange his touring schedule and security.

"READ ABOUT THE MEMPHIS MAFIA BELOW, THE FOLLOWING INFORMATION WAS PROVIDED BY BLACKSHEEP.COM
THE MEMPHIS MAFIA"
The Memphis Mafia is the nickname given to the group of men who were with Elvis Presley everyday from 1956 until the day he died on August 16, 1977.
There were eight original members; although at times, they numbered between four and thirteen. The core group of original guys (Sonny West, Red West, Billy Smith, Marty Lacker, and Lamar Fike) was considered to be the closest to Elvis and became his confidants throughout the years.
The name "The Memphis Mafia" was bestowed on the group in an unusual way. In the early 1960's, Elvis and the guys frequently wore black mohair suits. One afternoon in Las Vegas on a two-week pleasure trip, Elvis and the guys went to meet someone at the Riviera Hotel.
Elvis and the guys usually stayed at The Sahara Hotel. Their normal routine for Las Vegas was to stay up all night and sleep during the day. Elvis and the guys normally started their day about 5 p.m. However, on that day, the appointment at the Riviera Hotel was at 1 p.m. Four hours earlier than they normally got up.
There was a crowd of people in front of the Riviera Hotel when the two big black limousines pulled up. Elvis and about ten guys, all wearing black mohair suits and sunglasses, got out of the limousines. Because they normally didn't get much in the sun during the day, their skins were pale white. It was a scary sight to behold, and someone in the crowd yelled: "Who are they, The Mafia?"
It just so happened that there was a reporter from a Las Vegas newspaper there. So, the next day, a story ran about what she saw. She dubbed them "The Memphis Mafia." Elvis loved his guys being called that, and the name stuck.
The guys became known throughout the world as "The Memphis Mafia." Like the real mafia, there was always a code of silence within the group while Elvis was alive. Throughout all the years of his life, they protected Elvis' name and image.
Now is the first time that this many of the original members of The Memphis Mafia have gotten together to relate to you, the public, what those many years with Elvis Presley were really like. Today, The Memphis Mafia is comprised of the following men: