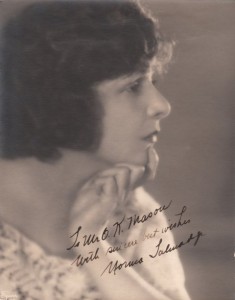 EXTREMELY RARE AUTOGRAPHED PHOTO OF SILENT FILM ERA ACTRESS NORMA TALMADGE
Vintage 7 x 9 Melbourne Spurr portrait inscribed in black fountain pen
"Mr. O.K.  Mason with Sincere Best Wishes Norma Talmadge"
Norma Talmadge (May 26, 1893 – December 24, 1957) was an American actress and film producer of the silent era. A major box office draw for more than a decade, her career reached a peak in the early 1920s, when she ranked among the most popular idols of the American screen.
Her most famous film was Smilin' Through (1922),but she also scored artistic triumphs teamed with director Frank Borzage in Secrets (1924) and The Lady (1925). Her younger sisters Constance Talmadge and Natalie Talmadge were also movie stars. Talmadge married millionaire and film producer Joseph Schenck and they successfully created their own production company. After reaching fame in the film studios on the East Coast, she moved to Hollywood in 1922.
A specialist in melodrama, Talmadge was one of the most elegant and glamorous film stars of the roaring twenties. By the end of the silent film period her popularity with audiences had waned. After her two talkies proved disappointing at the box office, she retired a very wealthy woman. Of all the silent stars whose reputation collapsed with the coming of sound, Norma Talmadge was the most important. She is little remembered, since her films are seldom revived today, yet in her day she was hugely popular and the epitome of stardom.