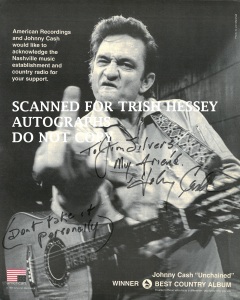 Rare Infamous Ad of Johnny Cash "Flipping the Bird" featured in
Billboard magazine March 12, 1998.
Signed and inscribed, "To Jim Silvers My Friend Johnny Cash" adding
"Don't take it personally"
Accompanied with an 11 x 14 photograph of Johnny & June taken by Silvers during a rehearsal of the Johnny Cash Show in early 1970's at Ryman in Nashville
and
LP "Cash On Delivery".
Letter of Authenticity
Letter of provenance by Jim Silver
(transcript below)
Jim Silvers letter reads;  "The time the ad came out I was in the process of producing an album of songs Johnny had made popular, The reason for the album was to benefit research in Shy-Drager Syndrome.
Johnny's manager lives in Thousand Oaks near where I used to live and we would talk occasionally and I had given him that picture of Johnny & June in the love seat (a copy of which is in the Country Music Hall of Fame).
Anyway, the ad came out and I asked Lou to see that Johnny signed it and sent it to him when he was in Nashville. Johnny was always very cool, except the time around when I was introduced to him by Norman Blake (his guitar, dobro and utility band member) his producers from New York were the typical putzes, maybe with good reason as there had been threats against John Carter Cash's life; he was an infant at the time.
My album fell short of my hopes as I couldn't get one of the main acts, Ledward Kaapana because of logistics, and I pissed off Balfa Toujours and they withdrew, otherwise it would have surpassed my hopes and expectations. Two cuts stand out; Jackson by the punk band ADZ was vilified by Cash's manager, Lou Robin, screaming into my answering machine for several messages, though I am sure Johnny got a kick out of it as it's a wonderful cut, and The Ballad Of Ira Hayes (the Pima indian who raised the flag on Iwo Jima and died drunk in a ditch on his reservation). We got the infamous Russell Means, a big wheel in AIM (the American Indian Movement and on trial for murder and a number of violent events) to do the song. The Washington Post said it was to depressing to listen to, the assholes, but one of my favorite cuts, if not the favorite on the album"